United Airlines is phasing out its award table as of November 15, 2019. After this date, the airline will no longer publish an award table showing a set number of miles required for a given flight.
This is bad news for those who like predictability, but it could be good news for those who have the flexibility to travel when demand is lower.
In this article, we're going to break down both the current rewards table and what will change in November.
Types of rewards
The MileagePlus Rewards Table as it looks now has two reward options: Economy Rewards and Daily Rewards.
Saver Rewards
This reward category is the best deal when it comes to redeeming miles for air travel. If your schedule is flexible, you can probably find economy seats a few days after the time you want to travel. But this category offers a limited number of seats at the lower exchange rate, so on popular routes or during peak season they will likely be harder to find.
Most domestic economy flights require 12,500 miles each way. Flights of 700 miles or less require 10,000 miles.
Daily rewards
Daily rewards are more widely available than Economy rewards, but they require more miles. They start at a much higher 30,000 miles for economy class and go all the way up to 60,000 for business class, plus 10,000 more for premium transcontinental service between a handful of airports for first class tickets.
For transcontinental flights between select US airports, be prepared to fork out extra miles for first-class service.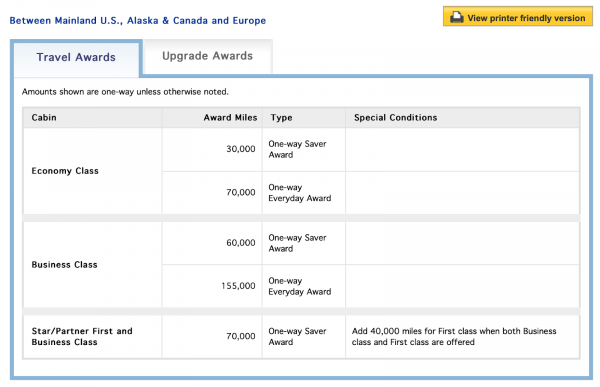 The excursionist advantage
One big perk offered by United that isn't going anywhere is the Excursionist Perk. It allows you to add a free one-way segment to your itinerary when traveling there and back between two different regions.
To book the Excursionist Perk, simply use the multi-city option when searching for flights. For example, if you book a one-way flight from New York to Munich and back to New York, you can add a stopover in Frankfurt on the outward or return journey and this will not require additional miles.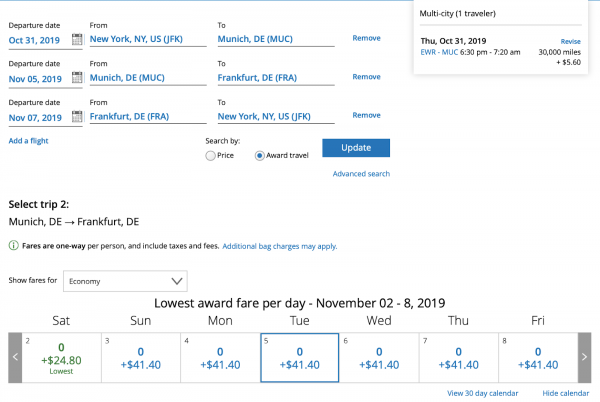 There are a few caveats, according to United's website:
The trip must end in the same region defined by MileagePlus from which the trip begins. (If you departed from North America, your trip must eventually end in North America.)

The origin and destination of the excursionist's flight must be within a single region defined by MileagePlus.

The booth and the type of reward must be identical.

If two or more one-way rewards qualify for this benefit, only the first occurrence will be free.
These rules still leave room for some potentially creative routing. Play around with the booking tool to see what's possible.
Changes coming November 15, 2019
As previously mentioned, United is moving away from a published rewards table and towards dynamic rewards pricing, starting November 15, 2019. So it will be more difficult to predict in advance how many miles you might need. to travel with an award ticket.
While some award trips will actually require fewer miles after the change, award prices will increase during peak seasons and on popular routes. The higher the demand, the more kilometers it will take.
In this example, award travel from New York to Mexico during peak December peak hours is up to 40,000 miles, although most of the time they are available at the current economy rate of 17,500 miles.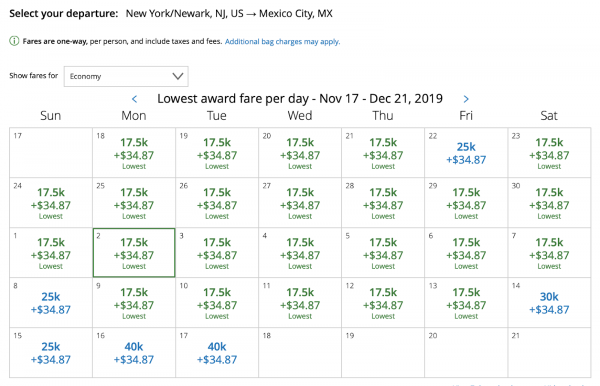 The silver lining in it all: United are waiving their closing costs of up to $ 75 for award travel booked less than 21 days prior to departure.
And even more good news for United MileagePlus members with Premier status and for those with United credit cards: there is no blackout date on rewards, which should make it easier to find seats.
Earn miles with United credit cards
Ready to earn more United miles? A United MileagePlus credit card is a great way to increase your account balance. the United Explorer Card℠ has this bonus offer: 40,000 bonus miles after spending $ 2,000 on purchases in the first 3 months of opening your account. Plus 25,000 additional bonus miles after spending $ 10,000 in the first 6 months. The annual membership fee is $ 0 introductory the first year, then $ 95. Plus, you get up to $ 100 credit toward purchasing TSA Precheck or Global Entry every four years.
the Infinite United Club Card℠ Also includes an annual United Club membership valued at $ 650 which grants you access to United lounges around the world. All of these benefits come with high annual fees: $ 525.
When you travel with United, you get one free checked baggage with the United Explorer Card℠ and two with the Infinite United Club Card℠. This benefit is extremely valuable to anyone who travels frequently with United and needs to check their baggage. Note that you must use your credit card to pay for the flight in order for these baggage charges to be covered.
How to Maximize Your Rewards
You want a travel credit card that prioritizes what's important to you. Here are our choices for the best travel credit cards of 2021, including those that are best suited: